boat rental makkum (friesland)
Makkum is a beautiful fishing village, situated on Lake IJselIJsselmeer. Most people know it because of the many kite spots and 'Makkum beach' a vast beach on the IJsselmeer. The village has a rich history and that can still be seen in the old village centre.
boat rental in and around makkum
Are you looking for boat rental Makkum? Then you are well at Friesland-Boating. Makkum is only 3 hours sailing from Koudum, the stepping stone location of Friesland-Boating. On the way you will encounter the most beautiful views.
the itinerary from kouum to makkum
A boating holiday is not complete if you have not started in Koudum. Koudum is in a very practical location. There is also a possibility to visit the picturesque citiesHindeloopen, Morra Stavoren and Workum on your way to MakkumFluessen. Did you know that Hindeloopen one of the smallest cities is one of the 11 cities of Friesland? 

boat rental makkum, along the way the fluessen
The Fluessen, one of the larger lakes of Friesland. Here are three different islands where you can stay for free! In the summer period fresh bread rolls are sold here in the morning from a boat. Can you already see it? In the evening a lovely evening dive, wake up the next morning by the chirping of the water birds and the rising sun! Then a delicious breakfast will be brought to you! That is enjoying the Frisian nature to the fullest!

Interested in more free nights in the middle of nature? Take a look at www.marrekrite.nl. At the top left of the menu is the map, click 'varen' for all locations. It Fluessen is located at Koudum and can be sailed on the way to Makkum.

five reasons why you should rent a boat in and around makkum!
The landscape of the Frisian lakes is unique, a combination of water, vast meadows and forest.
The tranquility of the Frisian nature, wake up among the water birds! 
Beautiful picturesque villages and towns around Makkum with many historical stories. 
Eleven-city tour route. Did you know that you can sail the whole Elfstedentocht route? Sail where all the heroes have skated!
Terraces and markets, in summer buzzing Friesland with people, there are also numerous water sports events such as skûtsjesilen and Sneekweek.


rent a boat in and around makkum
No boating license and experience needed at Friesland Boating!
You don't need a license to drive a boat with us. This way, anyone with a boat can go on holiday without having to know much about it. So you can enjoy a boating holiday together with your family or friends in Friesland. In addition, you do not need to have sailing experience, you can book a sailing instruction of 1 to 3 hours so you can leave safely.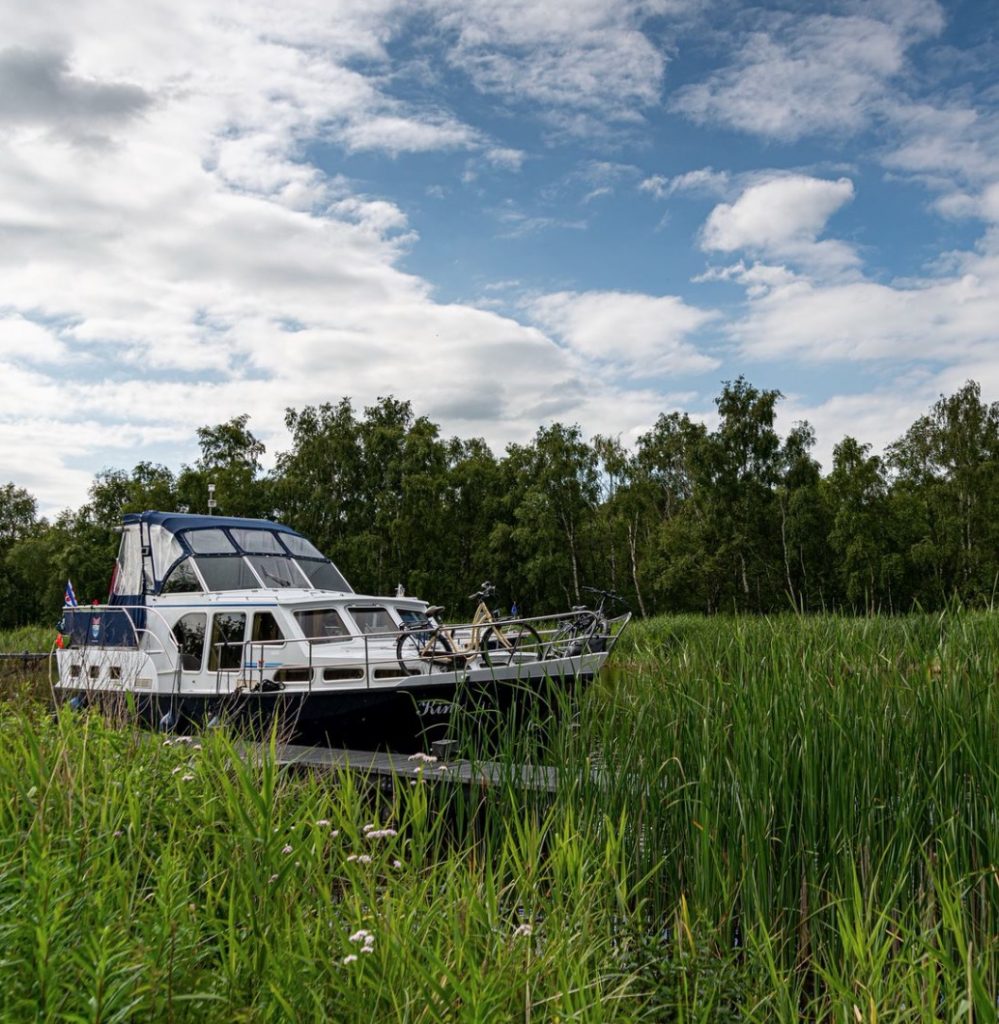 rent a boat around makkum, do you choose a cruiser, kormoran or houseboat?
A number of things are important when choosing the right ship for your boating holiday.
First of all, how many people you're going to sail with. For families and couples we recommend a cruiser or houseboat. For large families, several families or groups of friends we recommend the Kormoran motorboat, these boats are equipped with several showers and toilets and have a large terrace on deck. 
Would you like to experience a luxury boating holiday? All our boats are fully self-sufficient and equipped with a refrigerator, shower, toilet, cooking plates, kitchen utensils, sofas and beds!
Rent a cruiser with extra luxury?
Do you want extra luxury then choose one of our Pedro cruisers. These are generally higher and more spacious and are equipped with more luxury. 
In our harbour you can park for free!
As soon as you arrive at our port we can offer a free parking space. Your car will be parked free of charge and safe for the entire holiday on our grounds next to our harbour. This allows you to easily load your car into the boat in all peace and quiet. Our pick-up location is less than 1.5 hours from Amsterdam.
book your boating holiday around makkum now!
View the offer