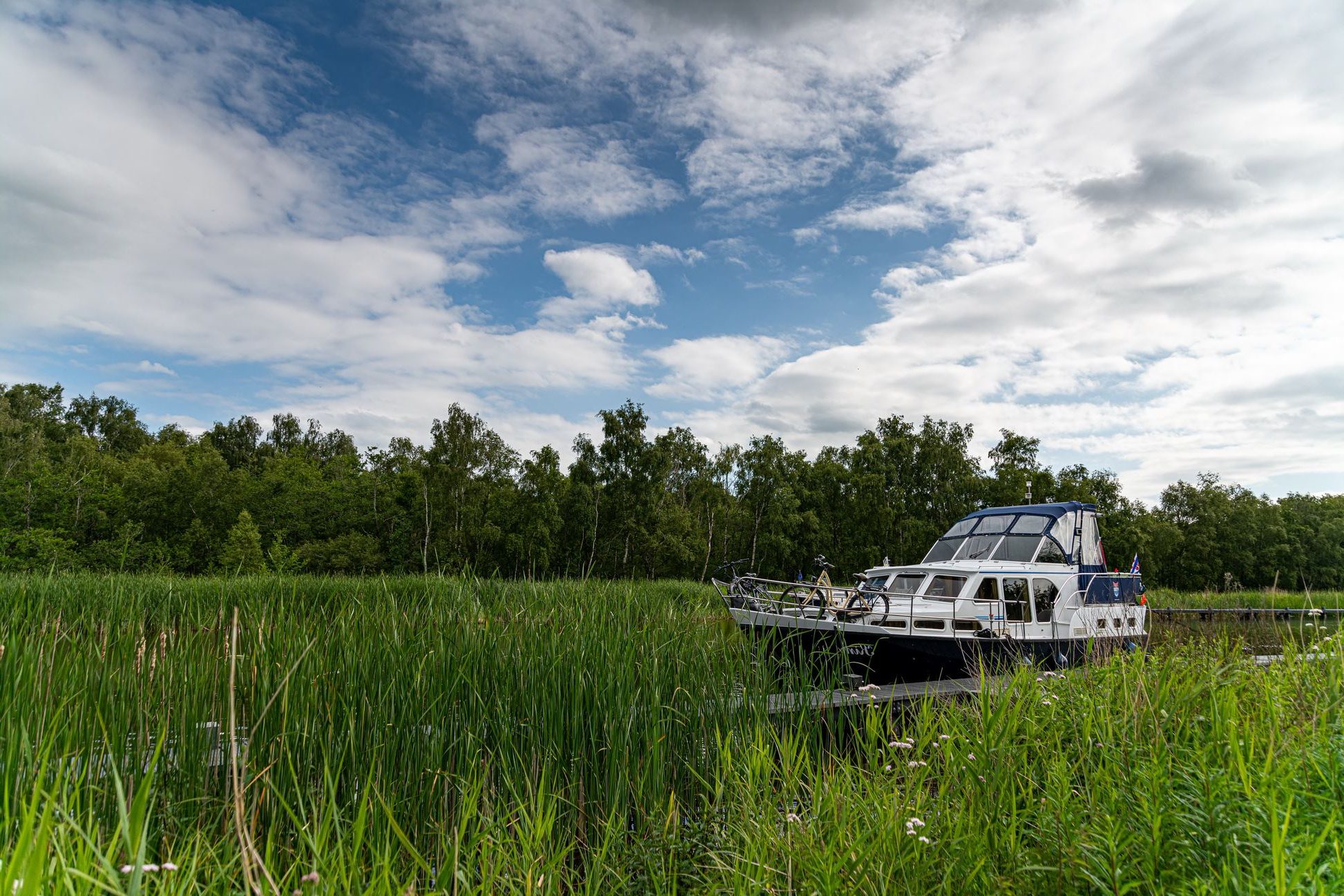 province of friesland
For a boating holiday at its best!
koudum, the start of your boating holiday
Located on the lakes 'De Fluessen', 'De Morra' and close to the Gaasterlandse woods and the IJsselmeer. The moraines created in the Ice Age give the landscape a hilly character. The area around Koudum is popular because of the many water sports along the nature reserves and at the lakes.
The ideal starting point!
From Koudum everything is possible! You are quickly in the picturesque cities, such as Stavoren and Hindeloopen, it is wonderful to wander around the historic buildings! You can travel further to cities such Workum as and Bolsward! Do you prefer to go the other way? Sneek or Sloten are also beautiful cities to visit! On the way you can visite one of the small islands, located in the Fluessen to go BBQ, explore the island or spend a night under the clear sky! 
Nature is central
You can expect beautiful landscapes. Cruising through meadows, with on your left the seawall filled with sheep and to the right a herd of Friesian horses galloping through the meadow. After you cruise through a forest and see the kingfishers fluttering around you. A little while later you are sitting on a terrace enjoying a delicious wine in one of our eleven cities. The boat is within walking distance in the harbor. That's Friesland at its best!
From Koudum can visit:
a large sailing network from koudum
From Koudum you can Friesland visit the most popular places. All cities and many villages Friesland are connected by water. Therefore, the villages and towns connected by water are also real water sports places with lots of fun! Below is a map with popular places where you can sail to from Koudum.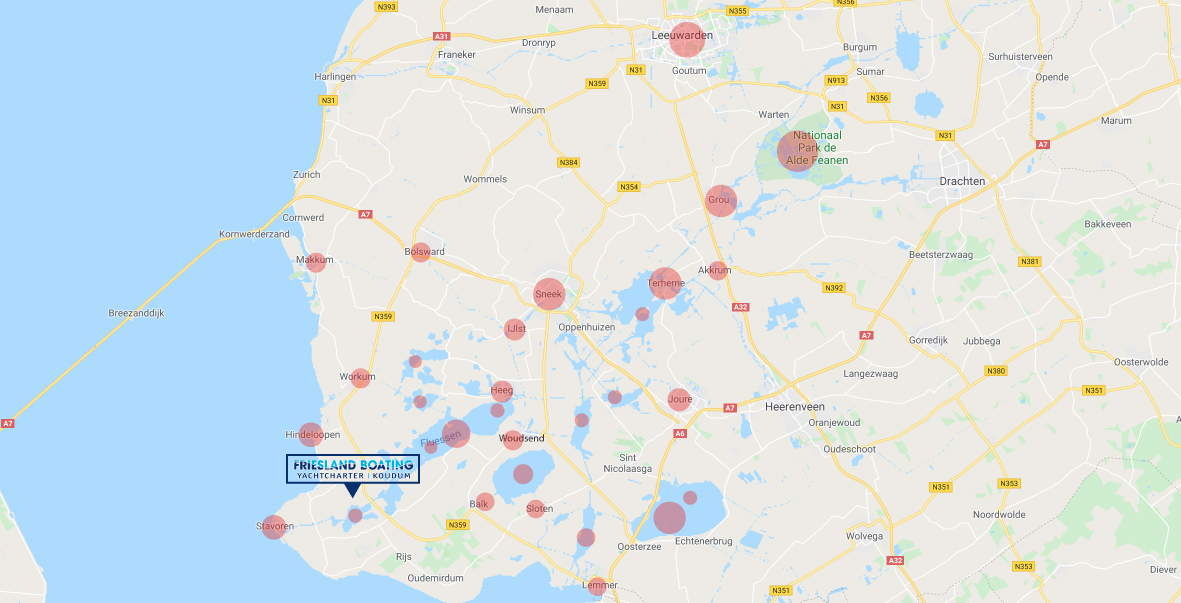 We have described a number of popular cruising routes for you. You can view the duration of certain routes, get inspired by the route or create your own route. Please note that the boat is allowed to sail 6 km per hour in the canals and can reach a maximum speed of 9-12 km per hour on the lakes. You can see a lot from Friesland in a week, but don't forget to enjoy it and take your time!
At departure you will be given a sailing map, on which you can view all the sailing possibilities. You will also find the bridge heights and water depths. Do you prefer to map out your route in advance or online? Download here a free sailing map of the Frisian lakes.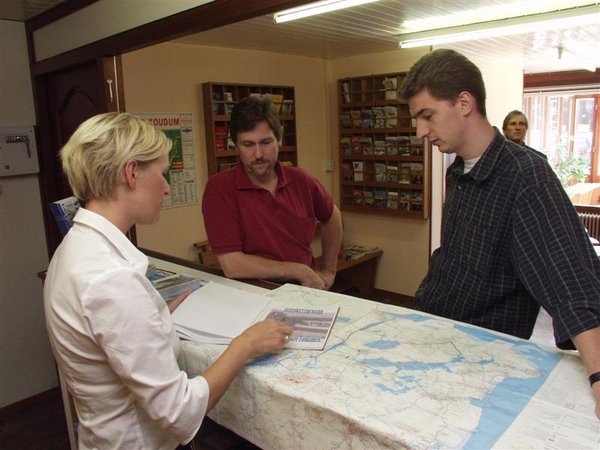 Sailing with a theme
A culinary route through Friesland
You can also sail with a theme. We offer you Friesland Boating the possibility to sail a culinary route with nice restaurants and delicious dishes! Often the dishes are prepared with our own Frisian regional products. Koudum also has its own regional product! Koudum is known for its "Koudumer Beantsje" (Beans). From far away you can buy this delicious regional product or eat it in a restaurant in a culinary way. You will be given several routes at departure.
Well-known regional products include Us Heit, a Frisian beer brewed in one of the Eleven-Cities 'Bolsward'. Also Sonnema Beerenburg is made in this city. This delicious liqueur is known throughout the Netherlands and even abroad. What about the Fryske Dúmkes (biscuits), beer brewer it Sneker pypke, Friese würst (sausage), Fryske sûkerbôle (sugar bread) etc..
Friesland, you must have tasted it!
To give you the total experience, we have, besides the beautiful nature and cities, composed this Frisian package!
So all your senses can enjoy what Friesland has to offer!

The Elfsteden package includes:

Friesland TravelGuide
Route information Elfstedentocht
Frisian welcome package

The package can be booked directly when you book a boat.
For sailing the entire Elfstedenroute we recommend at least one week boat rental.

Read more about the Elfsteden package here: